Auszeichnung für sprachliche, europäische und internationale Exzellenz


"Wir leben in einer Wegwerfgesellschaft…" – So beginnt eine 17-seitige englischsprachige Abhandlung über ein Projekt zum Thema "Müllmanagement in den USA und Deutschland", das Abiturient Tim Luca Nübel während des USA-Austausches am Gymnasium Borbeck durchführte. In Interviews mit Austauschschülern und seiner Gastfamilie und nach eigener Beobachtung, Erfahrung und Reflexion kommt Tim zu dem Schluss, dass mit dem Thema "Müll" in Deutschland und den USA unterschiedlich umgegangen wird. Durch die strikte Mülltrennung in deutschen Haushalten wird jedem Bürger die Verantwortung übertragen. In den USA hingegen spielt die Mülltrennung eine weitaus geringere Rolle. Die Verantwortung liegt vielmehr bei den Abfallunternehmen. So ist also das Thema "Müllvermeidung" viel weniger präsent im täglichen Leben als in Deutschland, und wird daher auch nicht als so wichtig erachtet. Allerdings wünschen sich Jugendliche in den USA eine Trendwende herbei, so Tim Luca.
Im Rahmen der Abiturzeugnisvergabe am Gymnasium Borbeck wurde Tim Luca für seine herausragende mehrsprachigen, europäischen und internationalen Kompetenzen mit dem Exzellenzlabel CertiLingua ausgezeichnet, die er durch sein Projekt erwarb. Neben einer besonderen Qualifikation in europäischer und internationaler Dimension wies er außerdem eine hohe Kompetenz in Englisch und Französisch nach und zeigte durch eine erfolgreiche Teilnahme am bilingualen deutsch-englischen Bildungsgang einen souveränen Umgang mit unterschiedlichsten Themen, die u.a. auch den Umweltschutz umfassen.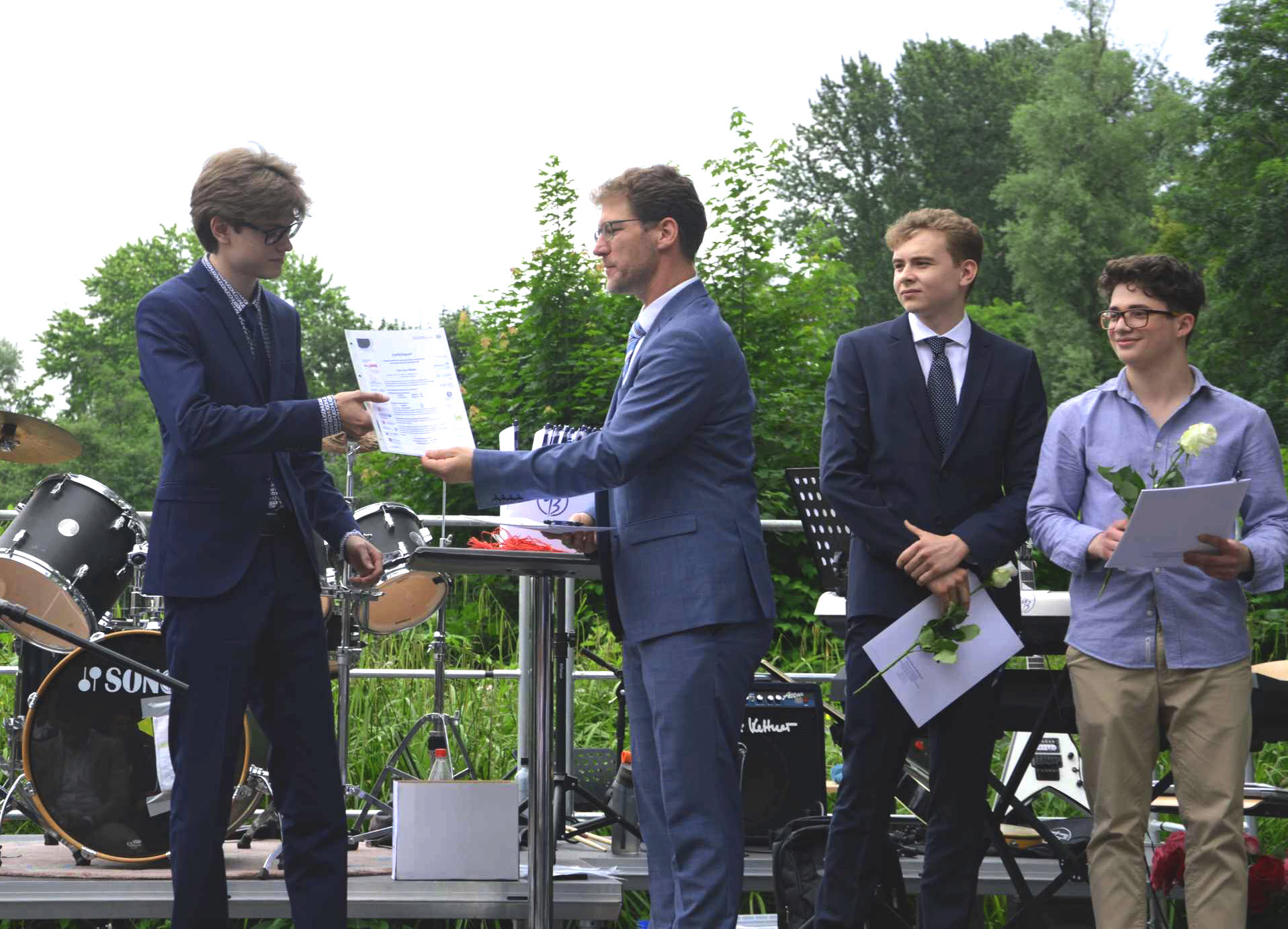 Schulleiter Lars Schnor überreichte Absolvent Tim Nübel das Zertifikat zusammen mit dem Abiturzeugnis

Das CertiLingua Exzellenzlabel erleichtert Tim Luca den Zugang zu international orientierten Studiengängen und ermöglicht berufliche Perspektiven im europäischen und internationalen Kontext. Insgesamt wurden in NRW in diesem Jahr nur 40 Abiturient*innen mit diesem besonderen Zertifikat geehrt. In seiner Arbeit fasst Tim Luca kurz und knapp zusammen: "If you can overcome language barriers, the paths are open to you in an international context." – "Wenn man Sprachbarrieren überwinden kann, steht einem international alles offen.".
Silke Koch