Spaß an Englisch in allen Variationen
Der diesjährige Bilinguale Abend gab einer Vielzahl an Schülerinnen und Schülern die Gelegenheit, ihren Eltern und Freunden vorzuführen, was sie schon alles mit der englischen Sprache gestalten können: von gerappten Poems über Sketche zu informativen Vorträgen, einem Theaterstück hin zu einem Quiz, bei dem die Schulleitung als Joker diente. Das alles wurde ergänzt durch die Aufführung der Hip Hop AG und natürlich englische Songs vorgetragen vom "Wüstenchor" unter der Leitung von Nico Zöller.Levi Bermann führte professionell und unterhaltsam durch den Abend.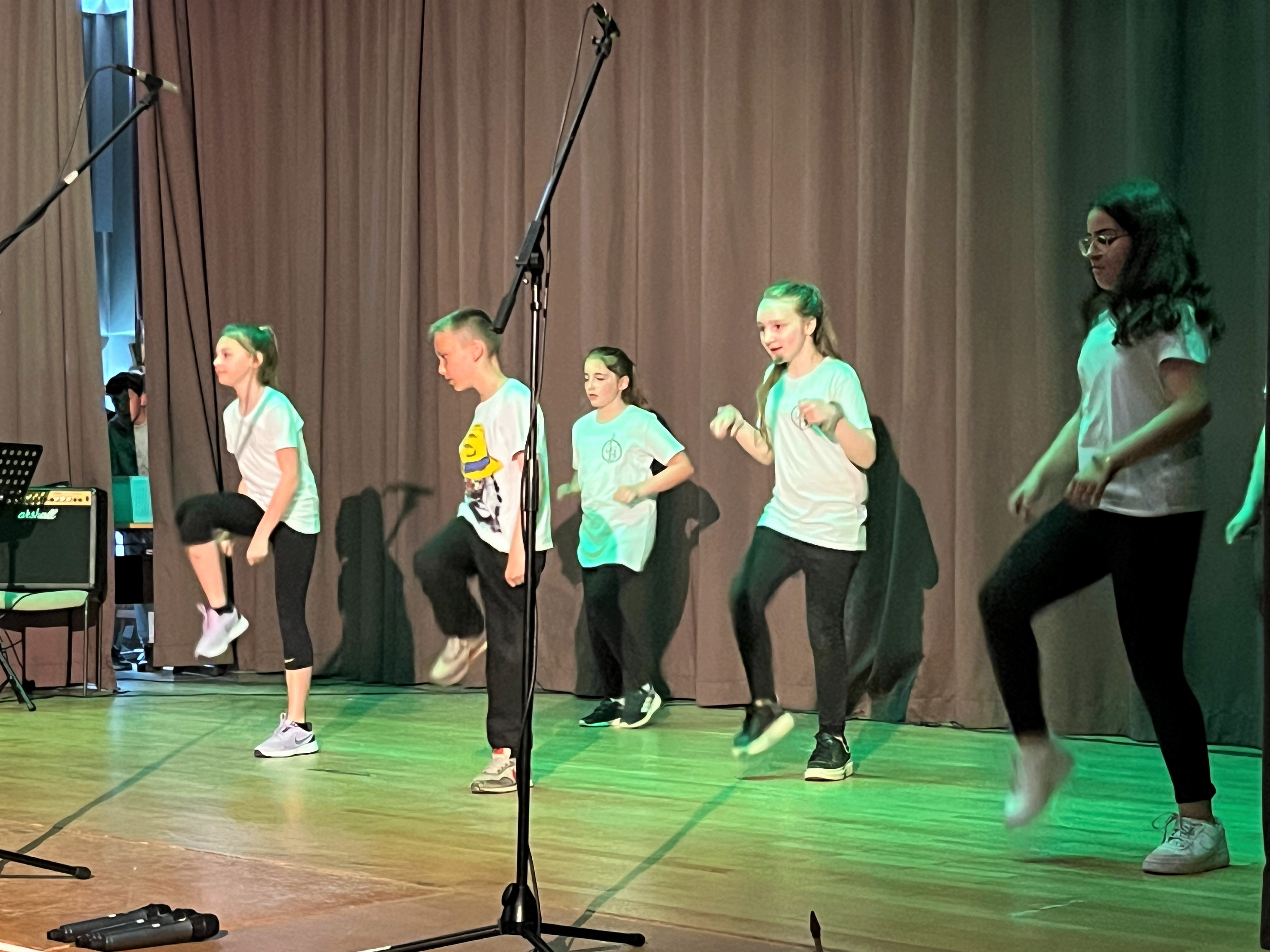 Den Auftakt machte die Hip Hop AG mit coolen Moves.
​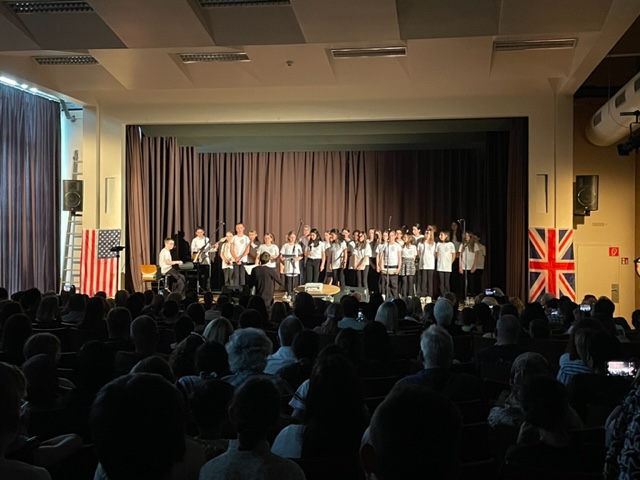 Das Publikum in der gut gefüllten Aula lauschte den Beiträgen des Wüstenchors.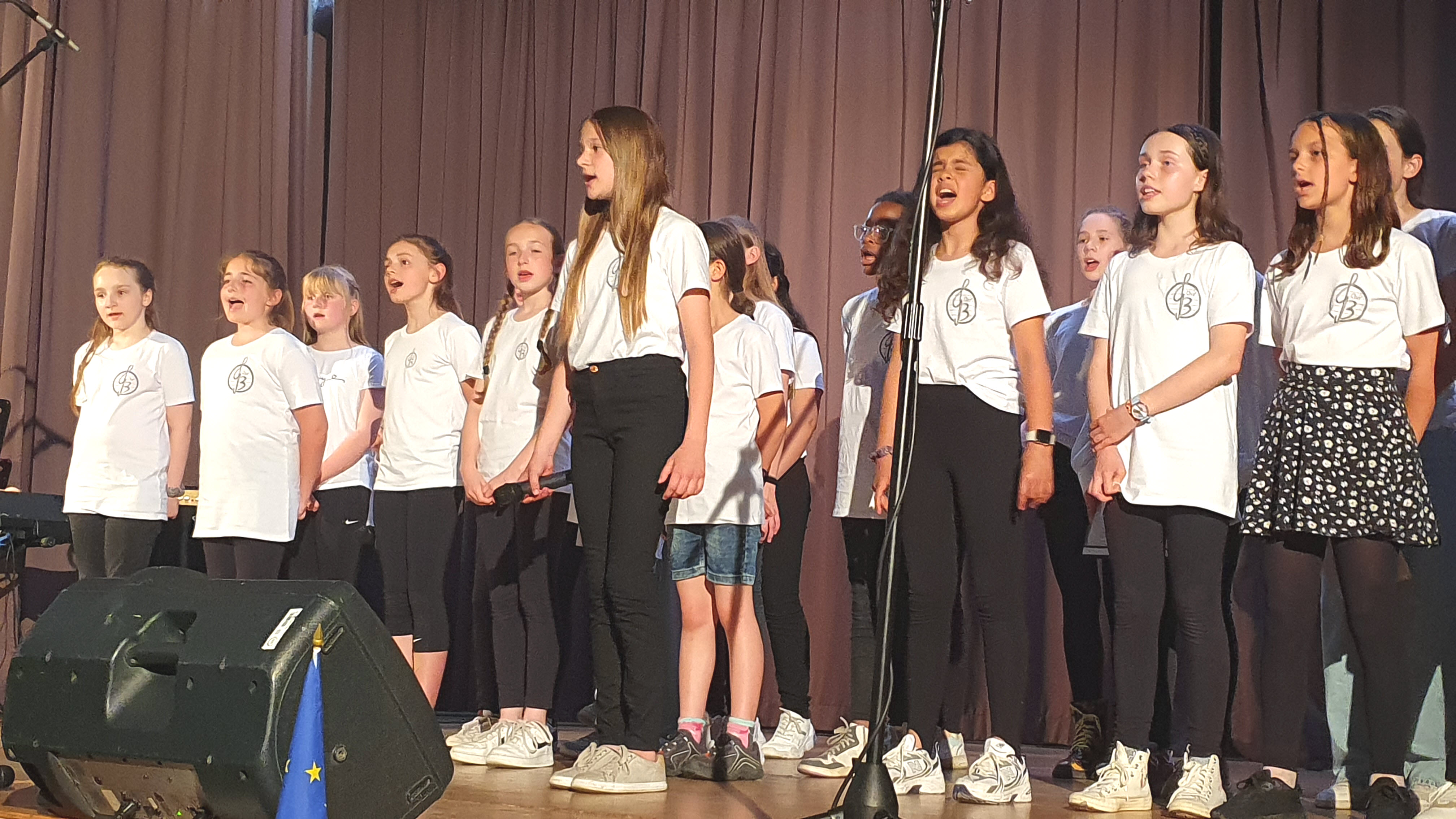 Englische Songs wie "Golden Hour", "Love is gone" und "Diamonds" wurden gesungen.

Die Klasse 5d präsentierte in verschiedenen Kleingruppen ihre Number Raps vor, bei denen es auf Rhythmus, Aussprache und Timing ankam.
| | | |
| --- | --- | --- |
| | | |
| Moderatoren Ilias und Jonas | | Bjarne und Yazan |
| | | |
| --- | --- | --- |
| | | |
| Luca und Abdulfatah | | Paul und Niklas |
Charlie und Celina

Eda,

Henriette

, Sophia und Tiara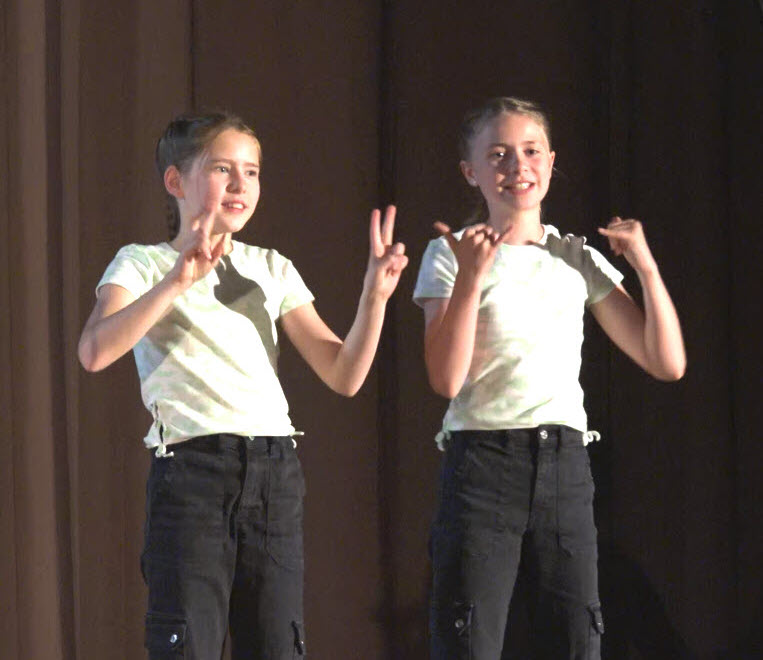 Nora und Viola
Das Thema "Climate Zones" aus dem Erdkunde Bi-Unterricht wurde von der Klasse 7d anschaulich dargestellt. Dabei vermittelten sie viel fachliches Wissen auf verständliche und kurzweilige Weise.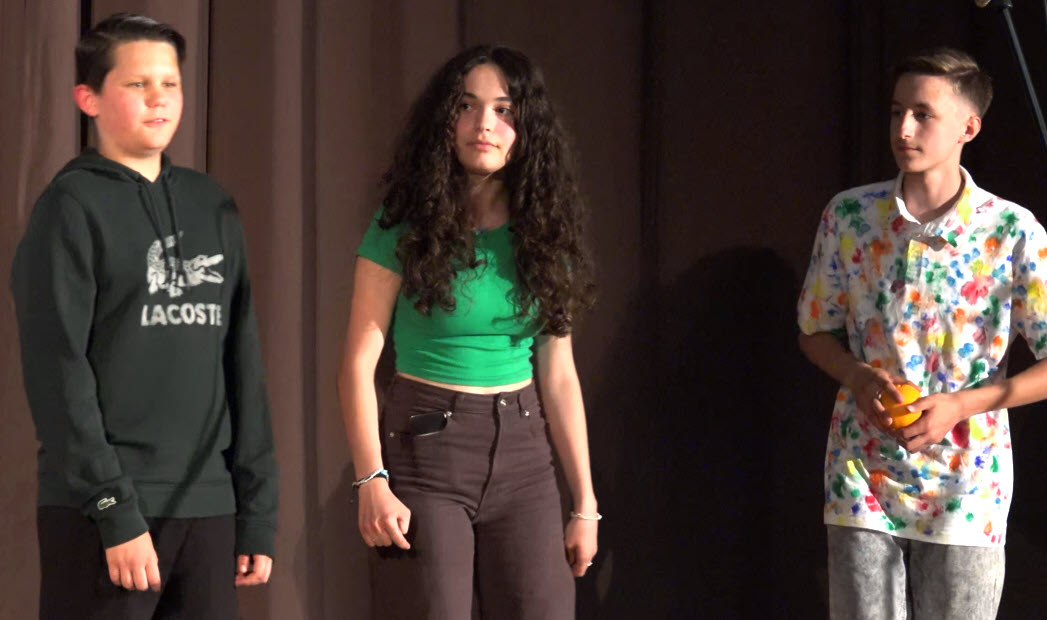 Zunächst gab es Infos zu den "tropical climate zones" und ihrer Tierwelt.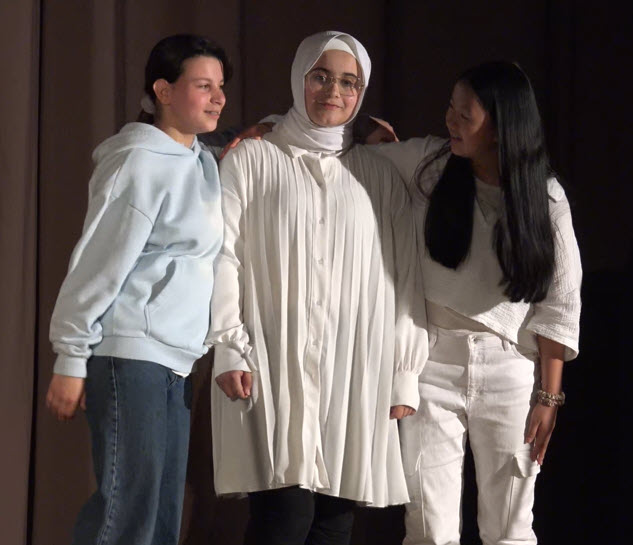 Bei der Präsentation der "polar zone" kam sogar ein "baby polar bear" zu Wort.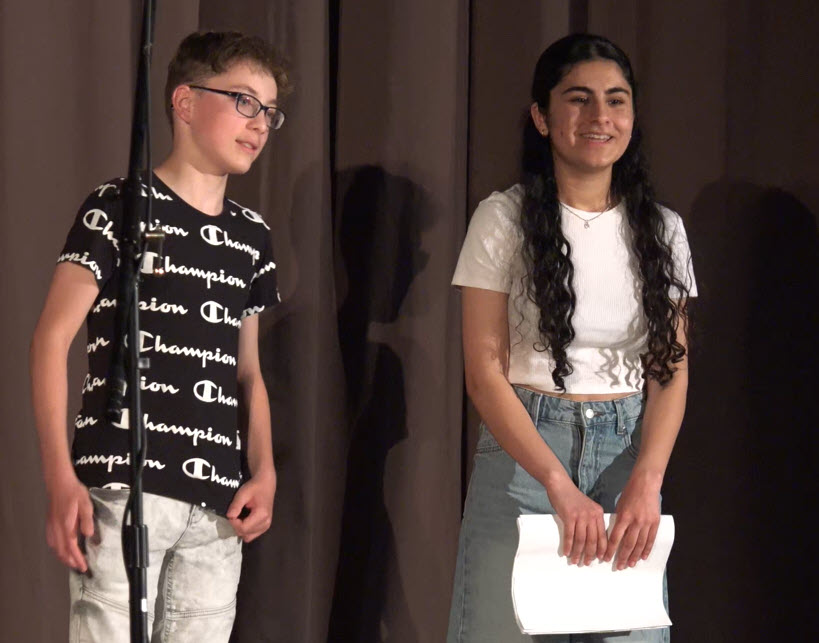 Bei der "arid zone" ging es um die Lebensbedingungen in der Wüste.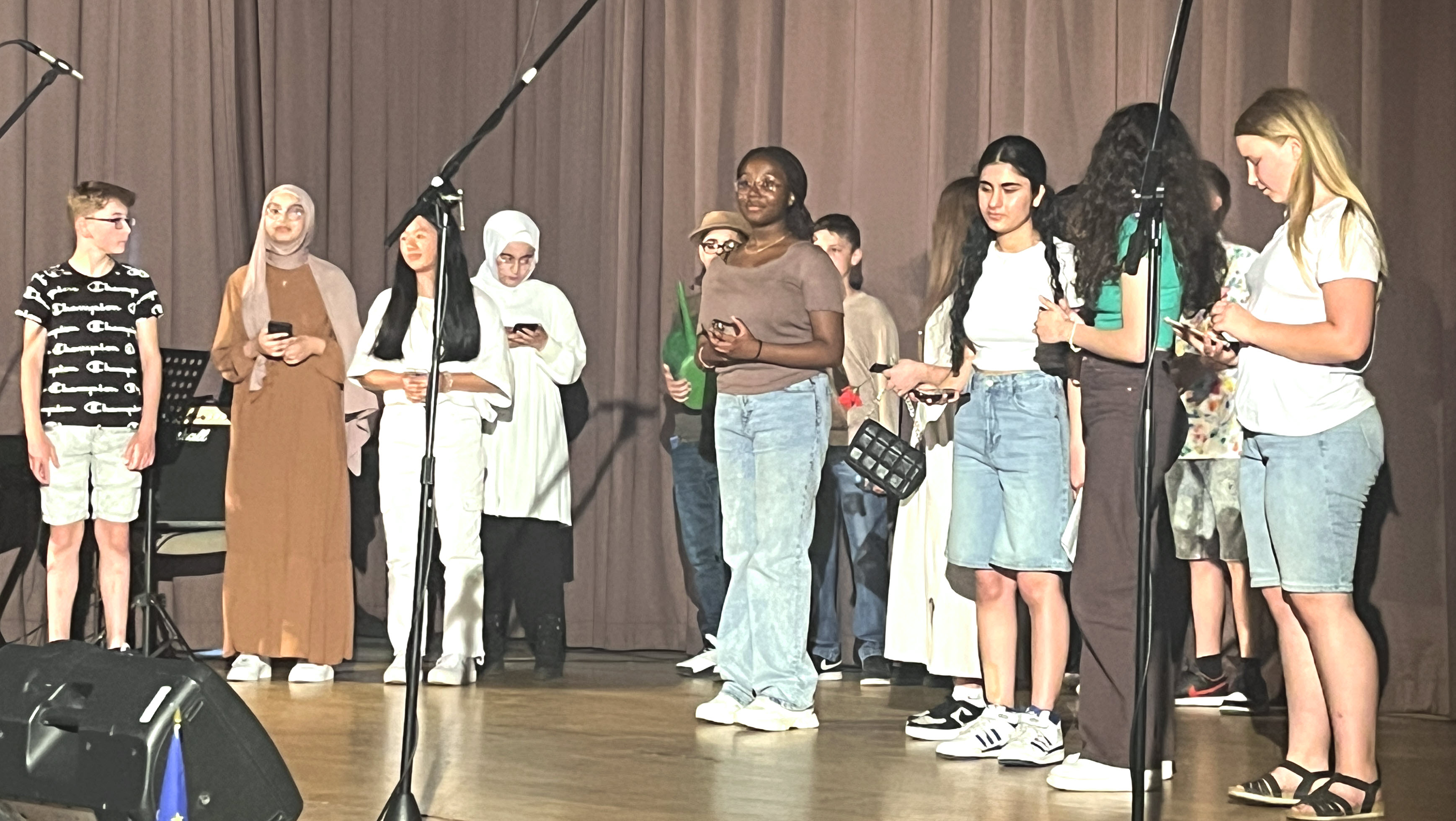 Den Schlussakzent setzte die Aufforderung "Together we can change the world!
Die Klasse 5c hatte einen lehrreichen und humorvollen Sketch vorbereitet, in dem es um die Nachteile von übermäßigem Verzehr von Süßigkeiten ging.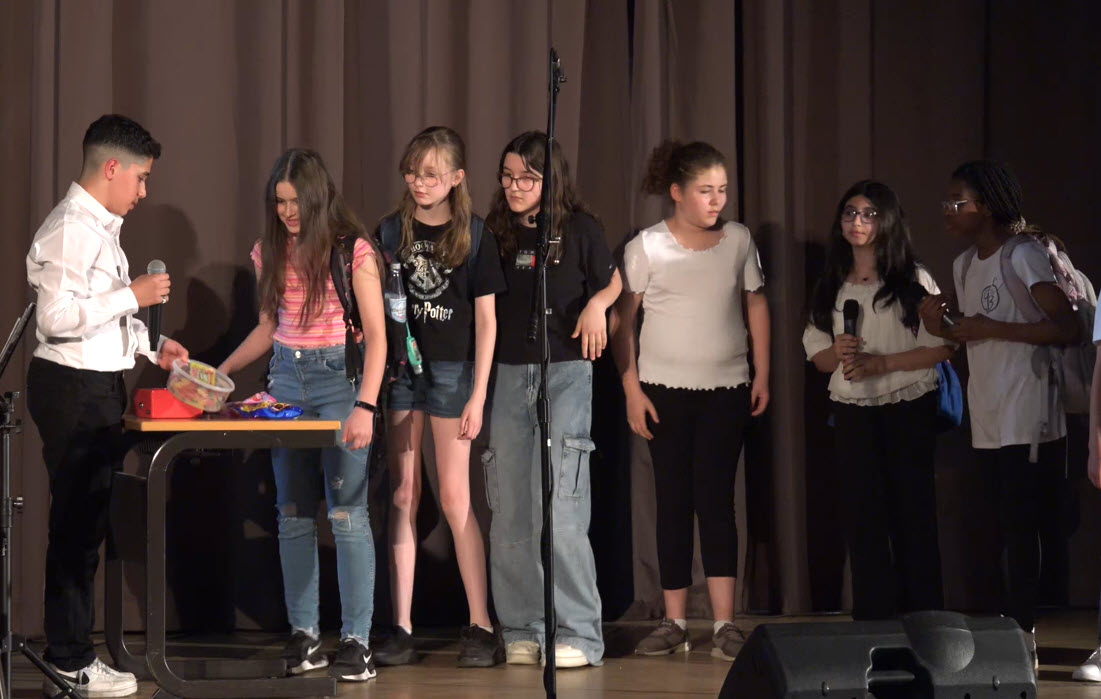 Die Versuchung, durch Süßes schnelle "Energie" zu tanken, ist in den Pausen groß.
Doch für fachliche Aufklärung wurde gesorgt!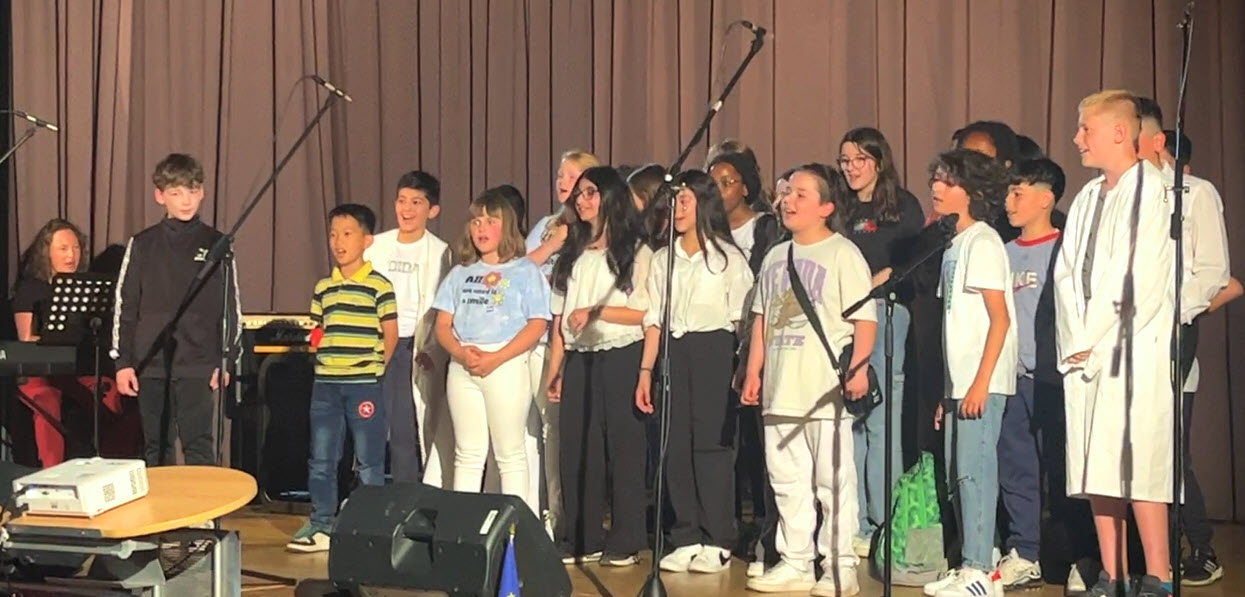 Im Anschluss folgte der kurzweilige Lollypop-Song begleitet von Sophie Rademacher.

In der Pause versorgte der GymBo-Förderverein alle Anwesenden mit leckeren Snacks.

Nach der Pause sorgte das Theaterstück "The Robbery" vorgeführt durch die Klasse 6d für viele Lacher dank der überzeugenden Performance der Darsteller und witziger Dialoge.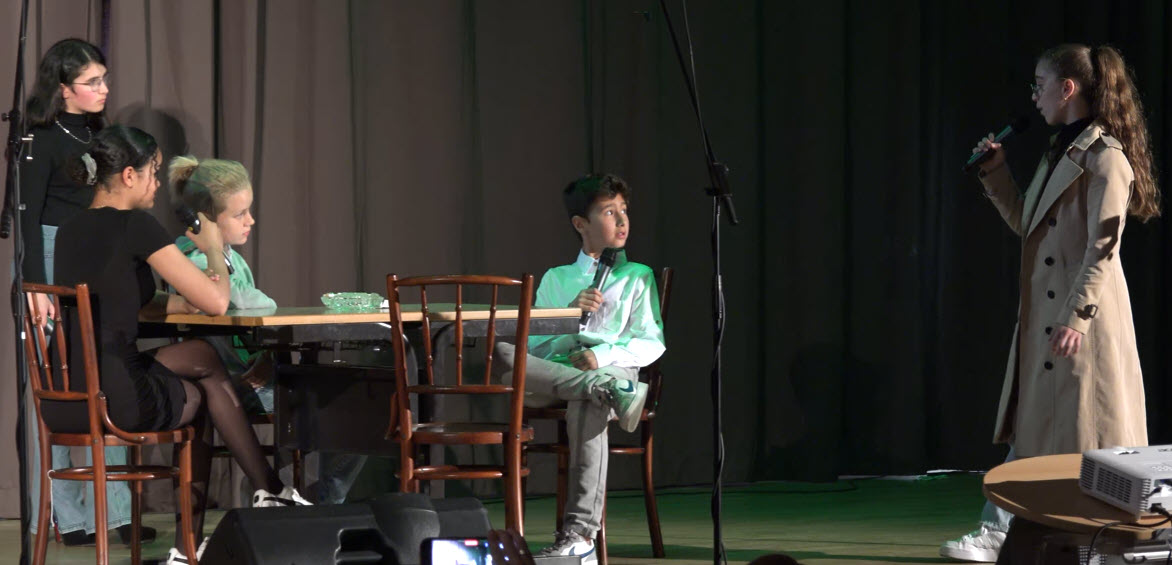 Der Plan, eine Bank auszurauben und schnell an Geld zu kommen, scheint zunächst so leicht ....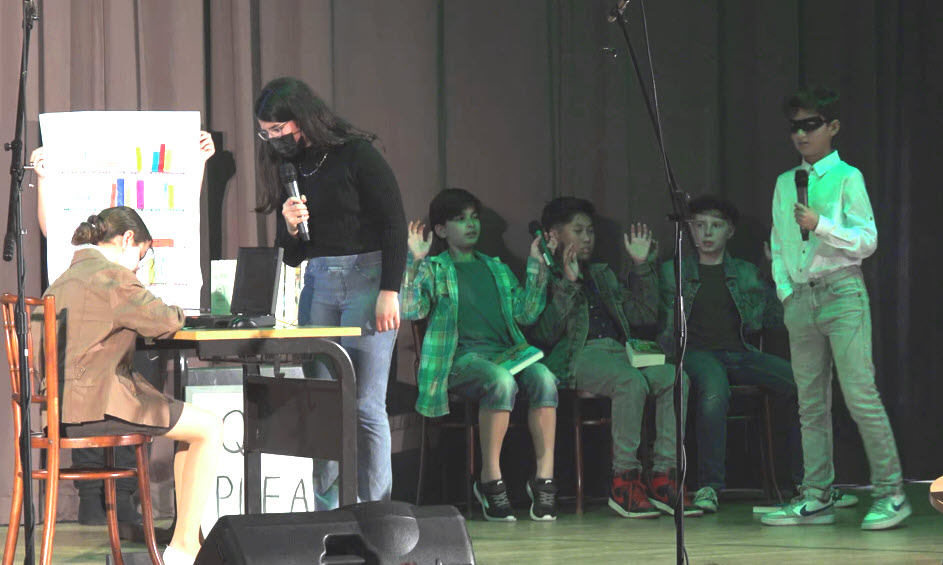 ...scheitert dann aber einer eloquenten Bibliothekarin und dem Überfall auf das falsche Gebäude.
Die Klasse 6b wählte mit einer englischen Quiz Night ein Format, das zum Mitmachen eindlud. Einerseits riefen manche der jüngsten anwesenden Schülerinnen und Schüler begeistert ins Publikum und andererseits wurden Herr Schnor und Herr Zaschke als "Joker" aus der Schulleitung den beiden Teams zugeteilt. Julia Gnaß und Isabel Heinemann moderierten die Show.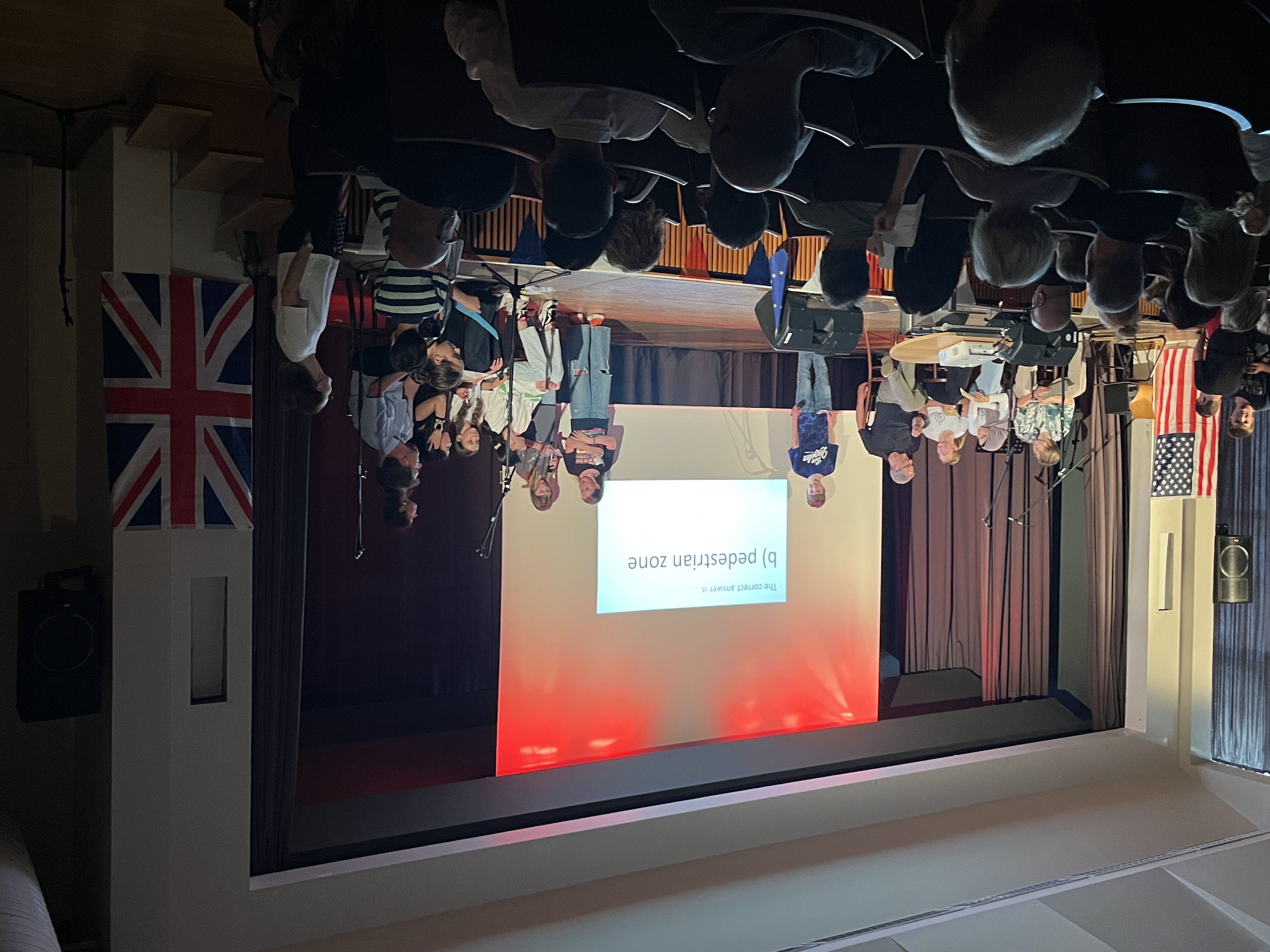 Die Quizfragen stammten aus den Bereichen Vocabulary, Tenses und United Kingdom.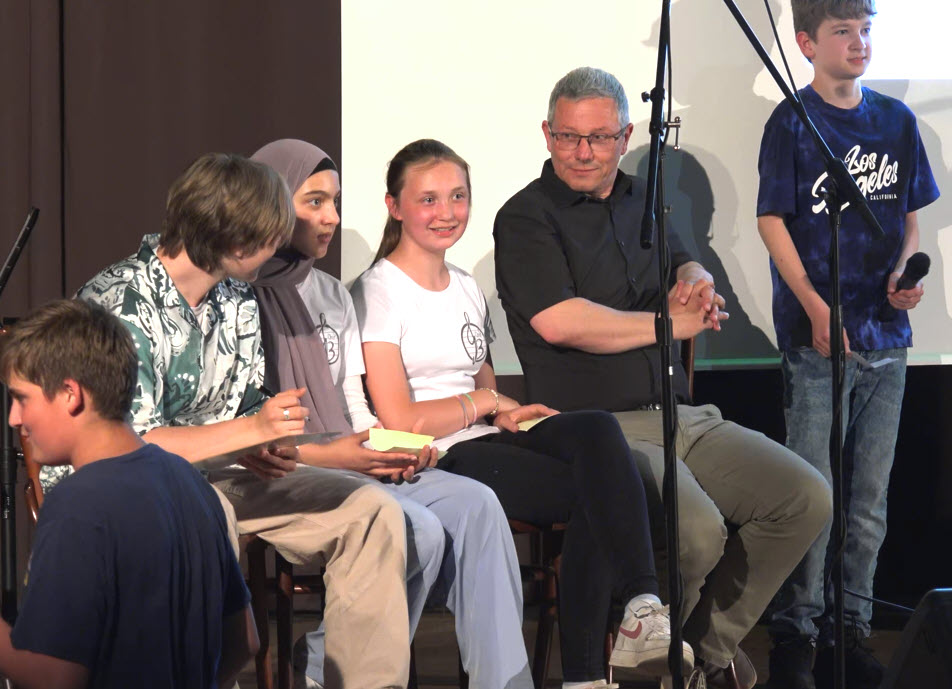 Beide Teams sammelten viele Punkte und lagen nur selten mit ihrer Antwort daneben.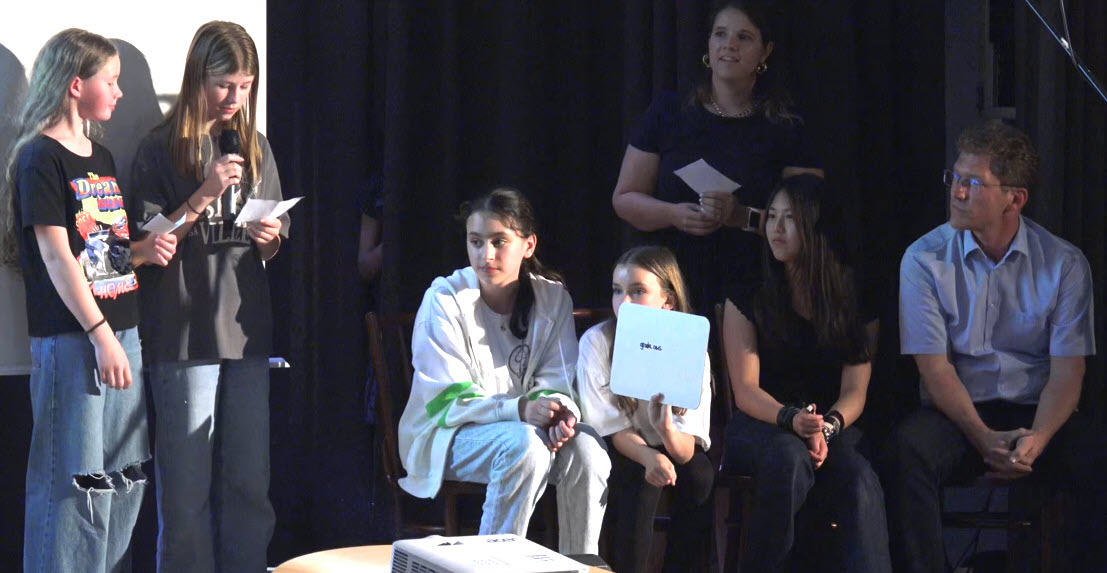 Mit Lea Nahn und Layla Arslangiray aus der Klasse 10b folgte dann zwei Vorträge im TedTalk-Stil, die sprachlich auf einem sehr hohen Niveau lagen und durch den inhaltichen Tiefgang zum Nachdenken anregten.
| | | |
| --- | --- | --- |
| | | |
| Lea beleuchtete "The meaninglessness of life". | | Leylas Thema war "Wear your confidence". |
Der Wüstenchor sorgte für einen stimmungsvollen Abschluss mit dem Song "Hit The Road Jack" und der Zugabe des aktuellen Popsongs "Snap".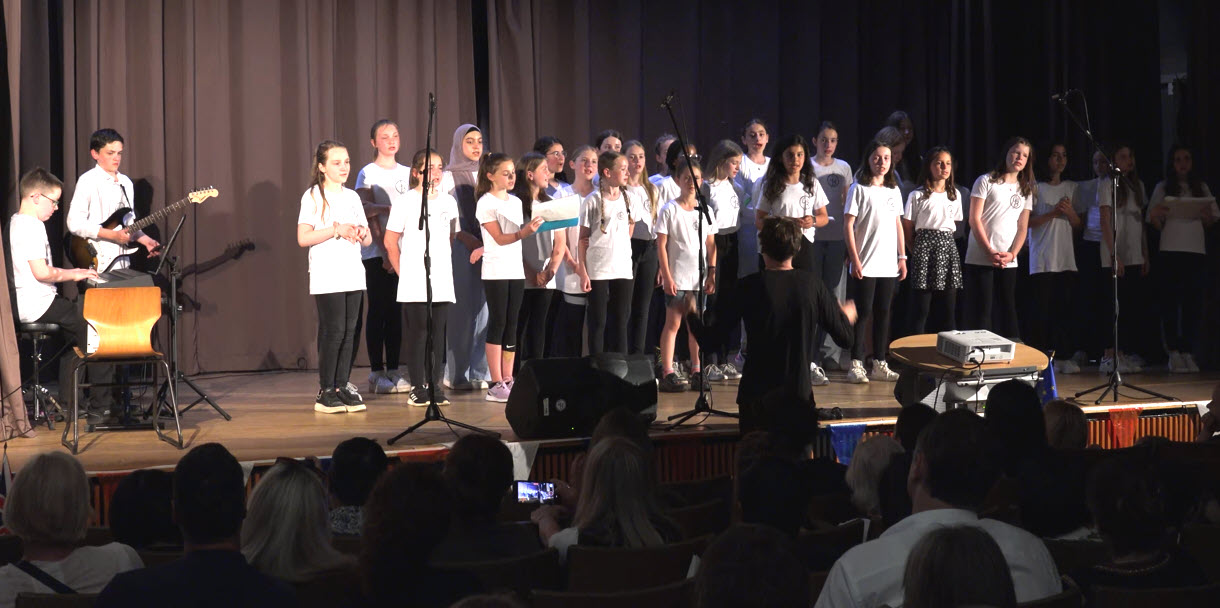 Nach gut zwei Stunden guter Unterhaltung bedankte sich Lars Schnor bei allen Beteiligten und übergab Blumen an die involvierten Lehrkräfte, die diese schönen Beiträge mit ihren Klassen vorbereitet und geprobt hatten.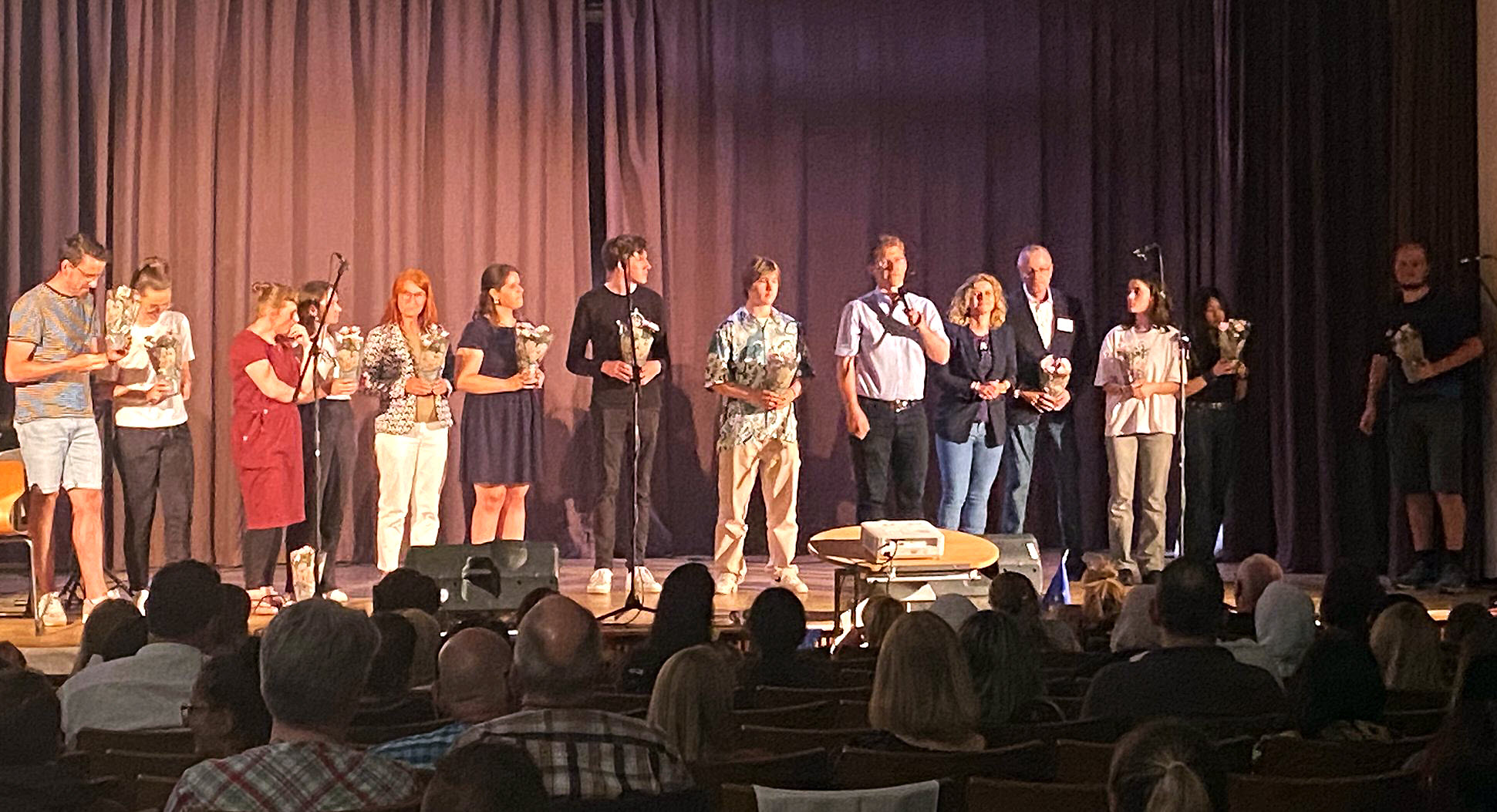 Jonas Leven, Julia Gnaß, Edna Schmalhausen, Maike Holtschneider, Ursula Ackermann, Isabel Heinemann, Nico Zöller-Pittelkau, Levy Bermann, Lars Schnor, Sonja Klever, Hagelgans, Layla Arslangiray, Lea Nahn und Kristian Hannoschöck (v.l.n.r.)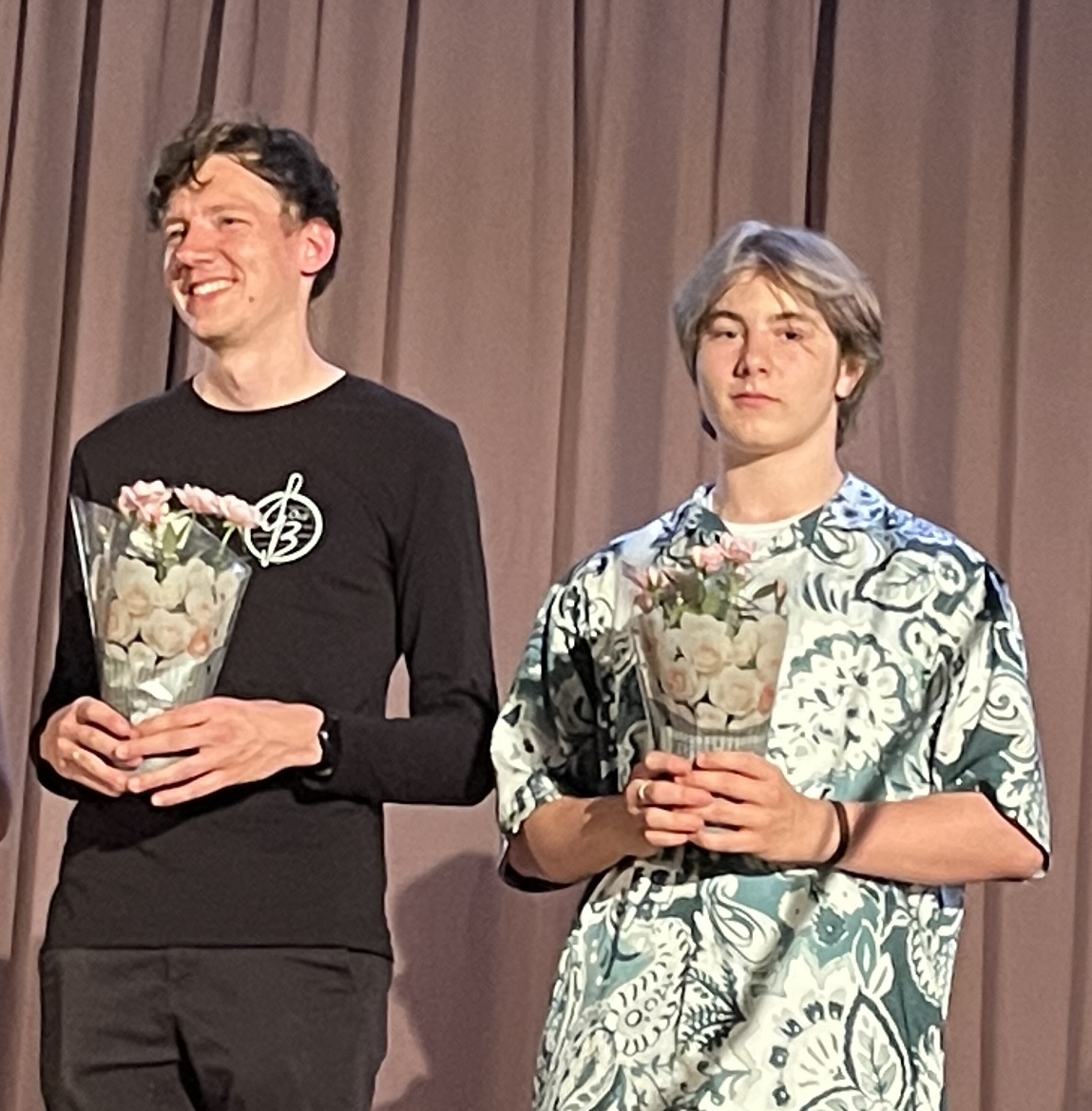 Nico Zöller-Pittelkau und Levi Bermann, der souverän durch den Abend führte.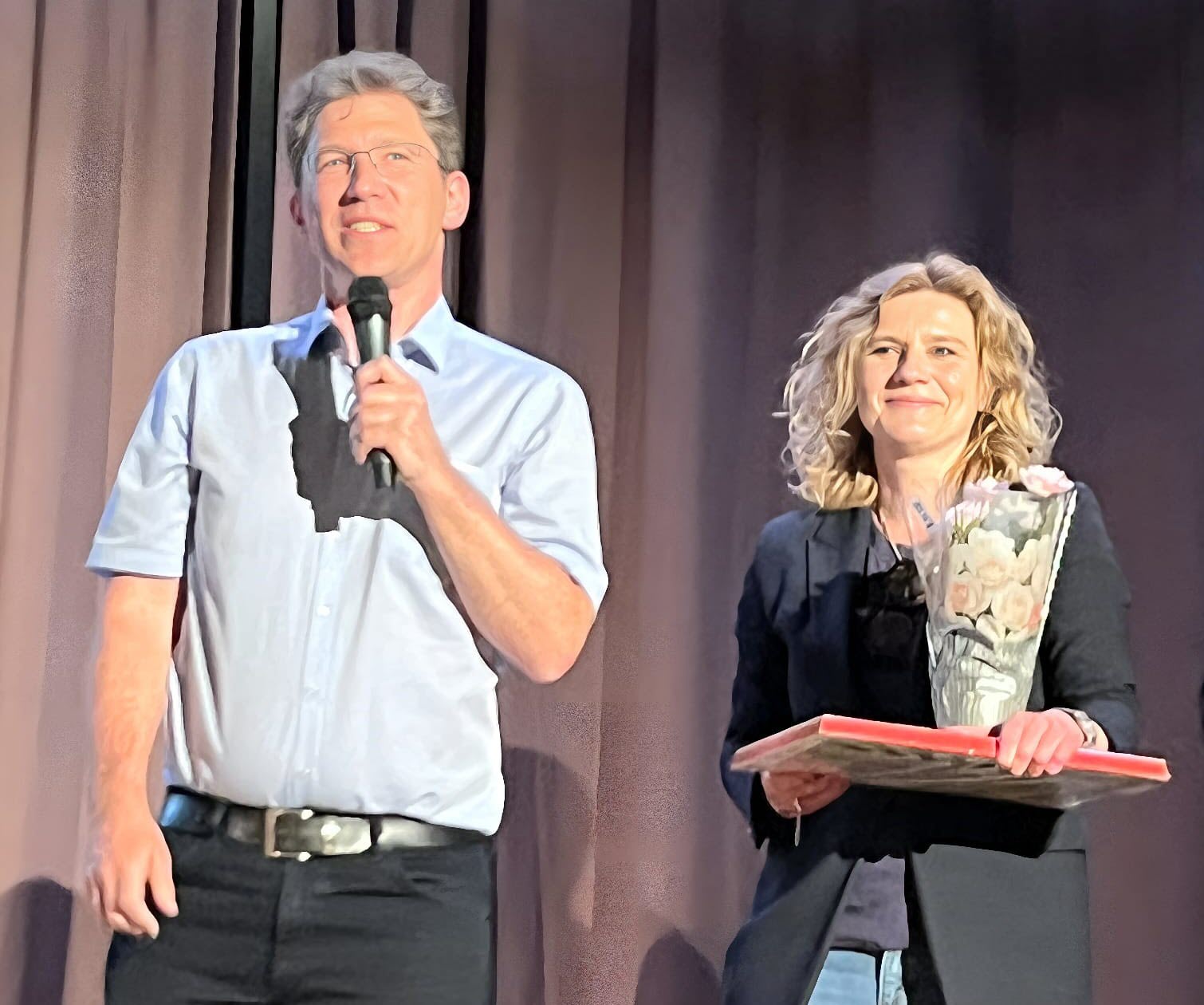 Last but not least dankte Lars Schnor Sonja Klever für die gelungene Organisation und Durchführung des Bili-Abends.
Lesen Sie dazu auch den Bericht "Gymnasium Borbeck begeistert mit bilingualem Abend" auf borbeck.de